Super Glue - Gel
Part Number: 143435
Unit Size: 2g Tube - Carded
Unit Per Case: 12
Document(s):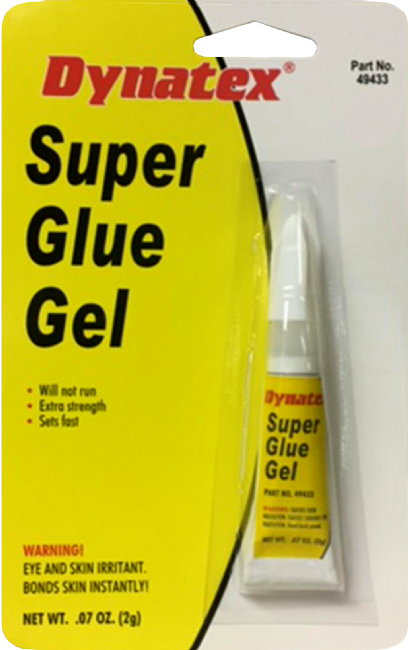 Product Description
---
Dynatex® Super Glue Gel is an instant bonding adhesive in a gel form designed to bond close fitting surfaces quickly. Sets in seconds to form a permanent, transparent bond. Supplied as a gel, it may be used on vertical, overhead and hard to reach surfaces. It is effective on metal, rubber, glass, aluminum, ceramics, vinyl, alloys, plastics and other non-porous surfaces.
Bonds in seconds, easy to use
No mixing
Super strong, holds up to 5,000 lbs
Automotive trim, minor interior repairs, knobs, logos, household repairs and more.....
Product Interchange Information
Part #
Item #
Unit Size
Units Per Case
UPC Code