Nickel Anti-Seize & Lubricating Compound
Part Number: 143490
Unit Size: 8 Oz. Brush Top Bottle
Unit Per Case: 12
Document(s):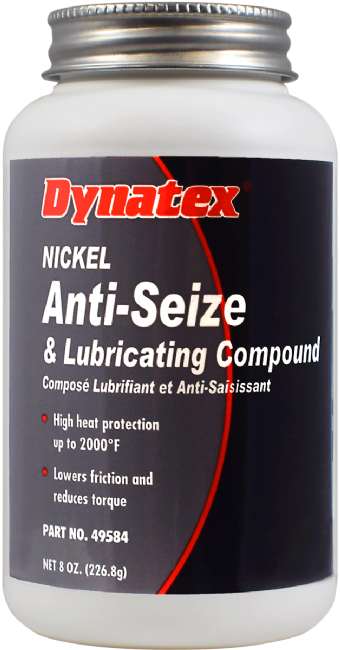 Product Description
---
Dynatex® Nickel Anti-Seize is a heavy-duty anti-seize and lubricating paste containing a balanced blend of pure nickel and graphite, homogenized into a semi-synthetic, non-melting, grease base. It does not contain any sulfur, lead, copper, halogens or clay fillers. It leaves a protective film that seals and protects metal parts, even under the most extreme condition of heat, corrosive and acidic environments. Prevents galling and seizing, rust and corrosion, and carbon fusion.
High heat protection up to 2000°F
Contains no lead or copper
Prevents galling and seizing
Prevents carbon fusion

Use On:

Manifold studs, pipe fittings, heat exchangers, furnace hinges, tailpipe assemblies, burner tips, catalytic converter assemblies and more....
Product Interchange Information
Part #
Item #
Unit Size
Units Per Case
UPC Code