Copper Anti-Seize & Lubricating Compound
Part Number: 143487
Unit Size: 8 Oz. Brush Top Bottle
Unit Per Case: 12
Document(s):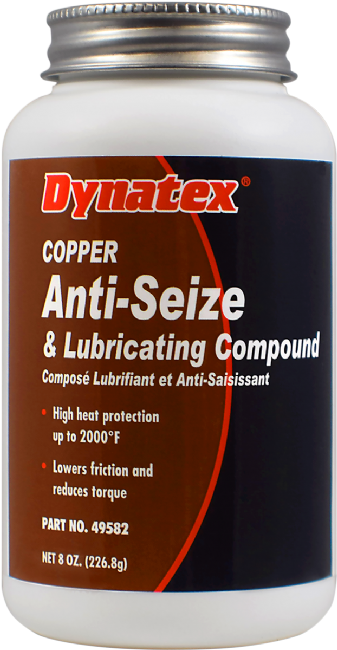 Product Description
---
Dynatex® Copper Anti-Seize is a heavy-duty, economical industrial anti-seize and lubricating paste containing very finely divided metallic particles in a special no-melt petroleum base grease. It leaves a protective film that seals and protects metal parts even under the most extreme conditions of heat, pressure, steam and water exposure.
High heat protection up to 2000°F
Provides good electrical conductivity
Resists water, salt solution, most shop and automotive fluids.

Use On:

Spark plug threads installed into aluminum heads, exhaust manifold and engine bolts, oxygen & knock sensors, thermostat housing bolts, fuel filter fittings, battery cable connections, and more....
Product Interchange Information
Part #
Item #
Unit Size
Units Per Case
UPC Code