Blue Medium Strength Threadlocker Gel
Part Number: 146821
Unit Size: 6ml Tube - Carded
Unit Per Case: 12
Document(s):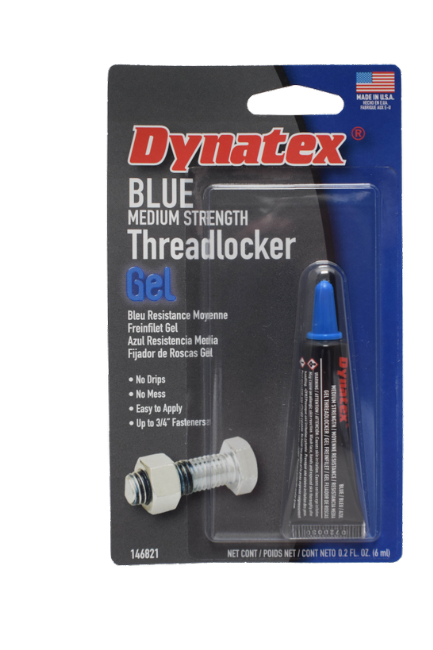 Product Description
---
Dynatex® Blue Medium Strength Threadlocker Gel is a medium strength anaerobic threadlocking material, which cures between engaged threads to form a unitized assembly that resists virtually all leakage, shock and vibration. Ideal for all ¼ inch to ¾ inch diameter nut and bolt assemblies. Threadlocker Gel is easily removable with hand tools for servicing requirements. Protects against thread corrosion.
Good temperature and solvent resistance against water and non-polar solvents
Cures rapidly on plated, oily metal surfaces or inactive surfaces
Locks and seals fasteners from 1/4" to 3/4"
Product Interchange Information
Part #
Item #
Unit Size
Units Per Case
UPC Code