4 Minute Steel Epoxy
Part Number: 144356
Unit Size: 2 x 1 Oz. Tubes - Carded
Unit Per Case: 12
Document(s):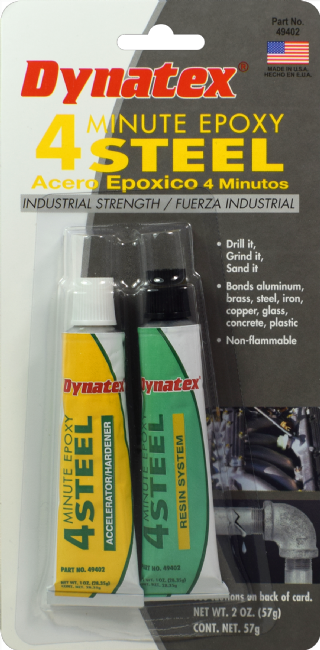 Product Description
---
Dynatex® 4 Minute Steel Epoxy is a fast-setting, industrial strength epoxy that is excellent for bonding metal to metal or repairing defects in metal, wood and masonry. Hardens to a steel-like mass that can be drilled, tapped, sanded, filed or painted once fully cured.
Water resistant
4 minute handling time
Non-flammable
Water resistant
Resistant to most automotive shop fluids
To bond rigid materials including: aluminum, copper, iron, glass, concrete, plastic, etc.
Product Interchange Information
Part #
Item #
Unit Size
Units Per Case
UPC Code